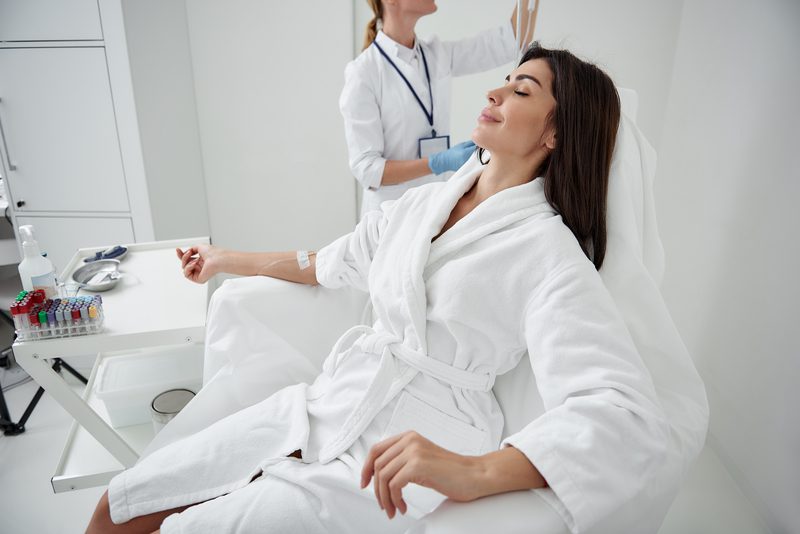 What is IV Vitamin Therapy?
IV vitamin therapy provides a liquid mixture of vitamins and minerals through a small tube that is inserted into a vein. Whether you want to boost your immunity or enhance your beauty, the infusions are designed to provide maximum effectiveness.
The Benefits of Intravenous Infusion
IV vitamin therapy infuses vitamins and minerals directly into your bloodstream through an IV, which yields superior absorption at the cellular level.
When you take a supplement orally, it must go past the digestive system, which destroys a significant amount of the vitamin, leaving very little that makes its way to the cells. With an intravenous injection, the vitamins and minerals go right into the bloodstream, which can then deliver the nutrients to the cells in your body without ever having to come into contact with the digestive system.
There are other factors that also influence how much of a supplement is absorbed when taken orally, such as age, health status, metabolism, and genetics, so by taking in the vitamins and minerals intravenously, you can work around these conditions.
Choosing Your IV Vitamin Therapy
When it comes to choosing the best IV vitamin therapy for you, it is important for you to first determine the areas that you would like to focus on, such as boosting immunity, gaining energy, or improving the quality of your skin.
Once your goal is determined, the next step is blood work to test a range of vitamin, mineral, and hormone levels. Your doctor or nurse practitioner will then discuss the results with you, along with any symptoms that you may have which relate to the blood work results.
When the blood work has been analyzed, and deficiencies have been observed, your doctor will then choose an IV therapy that best meets your needs.
The length of a single IV vitamin therapy session does not take very long, with most of them being completed within 45 minutes. This means that, in less than an hour, you can supply your body with the vitamins that it needs, without having to worry about how much of the vitamin actually gets to the cells.
We typically recommend IV vitamin therapy once a week, for 4-6 sessions. Once the initial treatment is complete, we can then reevaluate the frequency needed for future treatments.
What Does IV Vitamin Therapy Provide?
IV Vitamin therapy can be tailored to a wide range of needs, some of which include:
Energy
For those lacking energy and feeling fatigued or exhausted, B vitamins can provide the energy your body needs to function while also improving mental clarity.
Immunity
For those looking to strengthen their immune system against disease, inflammation, and sickness, vitamins and minerals such as vitamin C, magnesium, zinc, lysine, and B complex can help.
Beauty
Intravenous injections of B complex, vitamin C, glutathione, or biotin can help to improve the quality and appearance of your skin, returning its youthfulness.
Additional Benefits
IV vitamin therapy also helps to provide hydration for the body, and those who use IV vitamin therapy may also find that it helps to:
balance hormones
regulate thyroid conditions
promote weight loss
decrease blood pressure
reverse autoimmune diseases
reduce stress
restore neurological function
improve athletic performance
About Dr. Mel Irvine
Dr. Mel Irvine, DNP and Clinical Sexologist specializes in sexual medicine and beauty in Fort Myers Florida. She earned her Doctor of Nursing Practice at Florida Gulf Coast University and her master's degree at the University of Alabama at Birmingham. In 2018, she completed a preceptorship at San Diego Sexual Medicine with Dr. Irwin Goldstein and obtained her clinical sexologist certification from STII with Dr. Carol Clark. She is passionate about working with singles and couples to learn and explore their sexuality and sexual health needs through providing a comfortable and nonjudgmental atmosphere. As a provider she offers a balanced and holistic approach that encompasses a multimodal care delivery model.
Our sexual medicine and beauty treatments in Fort Myers Florida:
https://drmelirvine.com/storage/2022/08/IV-Vitamin-Therapy.jpg
534
800
John
https://drmelirvine.com/storage/2021/10/dr-mel-irvine-main-logo-300x83.png
John
2022-08-08 14:25:32
2022-08-16 14:25:50
IV Vitamin Therapy