The Long-Term Effects of Hormonal Birth Control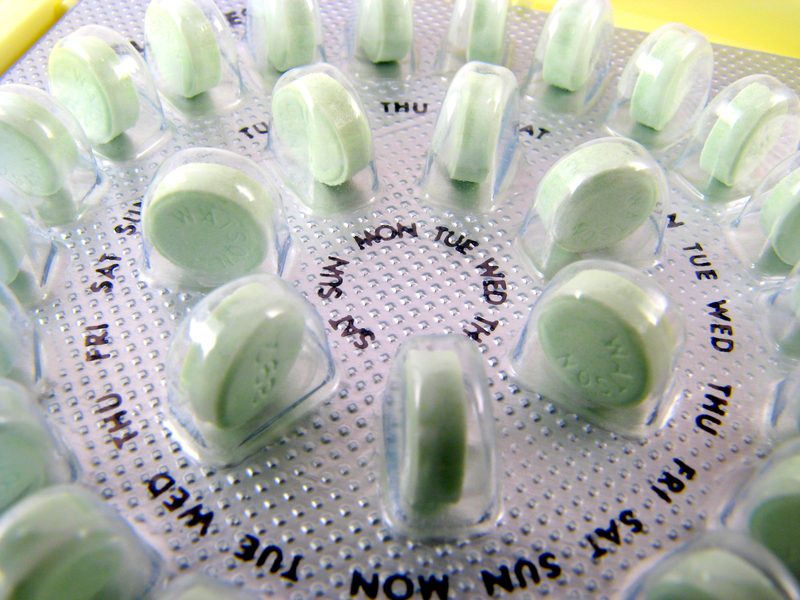 When it comes to preventing pregnancy, hormonal birth control is one of the most popular options.
However, the uses of hormonal birth control often extend beyond just preventing pregnancy, with many women taking birth control to address skin concerns or provide menstrual relief. Despite its many uses, though, there are some risks associated with long-term hormonal supplementation.
The Mechanisms Behind Hormonal Birth Control
The ovaries naturally produce the hormones estrogen and progesterone, which are typically considered the female sex hormones because they appear in higher quantities in females.
When the body experiences higher than average amounts of estrogen and progesterone, it does not release an egg. Hormonal birth control uses this finding to prevent pregnancy. By increasing the amount of estrogen and progesterone in the body, the body does not release eggs which then means that there is nothing for sperm to fertilize.
Additionally, progesterone on its own can alter the cervical mucus, making it thick and sticky, which creates a barrier that is harder for sperm to pass on its way to the uterus.
The Hormones Released
Hormonal birth control will often release one (or more) of the three hormones: estrogen, progesterone, or progestin.
Estrogen
Estrogen is most often known for its role in developing and maintaining the reproductive system. When menstruating, rising estrogen levels cause the release of an egg and the thickening of the uterine lining. However, estrogen levels that are above average have the opposite effect,
The body also uses estrogen when forming female characteristics, such as breast tissue, which is often why too much estrogen may be connected to the development of breast cancer.
Progesterone
Progesterone is a hormone that prepares the endometrium for a potential pregnancy. It causes the lining to thicken, making it more likely to accept a fertilized egg. Additionally, progesterone stops the muscle contractions in the uterus that would cause it to reject the egg. If you do not become pregnant during ovulation, the corpus luteum breaks down, which causes progesterone levels to decline.
Despite its role in pregnancy, when progesterone levels are too high the body does not release an egg and creates a thick and sticky cervical mucus, two action that help to prevent pregnancy.
However, progesterone is not absorbed well in pill form, so oral contraceptives often contain progestin instead.
Progestin
Progestin is a synthetic steroid hormone that has progesterone-like properties. It binds to the progesterone receptors in the body, creating effects similar to progesterone. This includes changing the lining of the uterus and preventing the lining from building up. Progestin also prevents the ovaries from releasing an egg.
Types of Hormone Contraceptives
There are many different types of hormonal birth control, lasting different amounts of time and utilizing different hormones.
Pills
The most common form of hormonal contraception is "the pillâ€. Despite its single name, there are many different brands, each with their own amounts of estrogen and progestin. This is why some women may find that one brand produces more side effects than another.
This form of contraception must be taken every day.
Ring
The ring is worn inside the vagina, allowing the vaginal lining to absorb the estrogen and progestin released. Rings must be replaced on a monthly basis.
Patch
The patch also contains estrogen and progestin, but it is instead placed on the skin, and they are changed once a week.
Intrauterine Devices (IUDs)
While there are IUDs with and without hormones, those with hormones typically contain progesterone. They are inserted into the uterus by a doctor and last between 3 to 10 years, depending on the type.
Birth Control Shot (Depo-Provera)
The birth control shot contains progestin and is administered every 12 weeks by a doctor.
Implants
Implants are thin rods placed under the skin of your arm where they release progestin. They can last up to 3 years.
Side Effects of Hormonal Birth Control
Hormonal birth control has long been considered a staple in every woman's life, but the ugly truth is that it comes with many adverse side effects that women are not aware relate to the change in hormones.
Side effects of hormonal birth control can include:
vaginal irritation
headaches
weight gain
sore breasts
acne
mood changes
nausea
decrease libido
However, there are also long-term effects of taking hormonal birth control.
The Long-Term Effect of Hormonal Birth Control
Hormonal birth control, as the name suggests, works by altering your hormone levels, which are key messengers in your body.
This can cause the above side effects, which many women learn to live with as they continue taking hormonal birth control. However, taking hormonal birth control can also cause significant problems in the body when taken long-term. Since many people take hormonal birth control for the majority of their adult lives without a break, this long-term use can apply to many.
Mood Swings
Hormonal birth control can cause severe mood changes or even depression in those who take it.
This is because the body is constantly working to create a balance in its hormones. However, when taking hormonal birth control, you are introducing hormones that then cause a disruption, which can affect your mood. This is especially common in women who have already experienced episodes of depression.
Despite these connections, the effect of hormonal birth control on female well-being is drastically understudied. However, a 2017 study on a small group of healthy women did find that oral contraceptives significantly reduced their overall well-being.
High Blood Pressure
Some women may develop cardiovascular issues because of the increase in blood pressure that is experienced when on hormonal birth control. High blood pressure is often considered a silent killer because it is a risk factor for many cardiovascular issues, such as heart disease, heart attack, or stroke, but it does not show any symptoms until these conditions have developed.
Hormonal birth controls may increase your blood pressure because the hormones they give off can potentially narrow smaller blood vessels, which then causes blood pressure to rise. Birth controls with estrogen, in particular, are not recommended for those who already have high blood pressure.
Additionally, studies have found that hypertension can occur in those taking low- or high-dose estrogen contraceptives, so it is essential to be aware of your cardiovascular health before taking these birth controls and to monitor it regularly while taking them.
Increased Cancer Risk
There are certain cancers that are associated with lower incidence when taking hormonal birth control. Such as ovarian, endometrial, and colorectal cancer.
However, there is some evidence suggesting that hormonal contraceptives may increase the risk of breast and cervical cancer. This is because the hormones estrogen and progesterone, which are found in hormonal birth control, may stimulate the growth of some cancer cells.
The American Cancer Society (ACS) even states that those who take birth control pills are slightly more likely to develop breast cancer compared to those who have never used them. However, being off the pill for at least 10 years completely reduces this high risk, showing that discontinuing hormonal birth control now can significantly help with your risk of developing cancer, and the sooner you discontinue it, the better.
Additionally, taking hormonal birth control for just 5 years can increase the risk of cervical cancer, and the longer you take hormonal birth control, the higher your risk becomes. Same as breast cancer, though, the risk of cervical cancer decreases by discontinuing the pill.
Blood Clots
Taking hormonal birth control can slightly increase your risk of blood clots.
A 2013 meta-analysis found that using oral contraceptives that contained both estrogen and progesterone increased the risk of a blood clot. Blood clots then increase your risk of heart attack or stroke, which can drastically impact your health.
The risk of blood clots is even higher if you have a history of heart disease, high blood pressure, or diabetes.
Migraines
Those with a history of migraines may find that they become worse when taking birth control pills, especially combination pills.
Dementia
While dementia is typically something that develops when someone is in their later years, long-term birth control may increase its risk.
Studies have found an increased risk of Alzheimer's disease and its associated dementia, in particular, in women who used estrogen-progesterone therapy for longer than 5 years, with the risk increasing in those who used it for more than 10 years.
Lowered Testosterone Levels
Studies suggest that long-term hormonal birth control use can reduce the amount of testosterone circulating in the body. A testosterone deficiency is often associated with a diminished well-being, loss of energy, mood changes (moodiness, depression, irritation), cognitive disturbances, declining muscle mass, and lower bone mass and density.
Alternative Methods of Birth Control
For those looking for a way to prevent pregnancy without taking hormones long-term, there are other methods.
One method is a non-hormonal IUD, which can last anywhere from 3 to 10 years. Male and female condoms are another option to protect pregnancy, with the additional benefit of preventing the spread of STIs.
For those looking for a natural option, the rhythm method involves carefully monitoring your menstrual cycle to avoid sex or use condoms on the days when you are fertile.
If you are overwhelmed by all the birth control options, meeting with your doctor is a great way to discuss all the options and choose the one that is best for you, ensuring you do not increase your risk for any health concerns while also preventing pregnancy.
References
Zethraeus, N., Dreber, A., Ranehill, E., Blomberg, L., Labrie, F., & von Schoultz, B. et al. (2017). A first-choice combined oral contraceptive influences general well-being in healthy women: a double-blind, randomized, placebo-controlled trial. Fertility And Sterility, 107(5), 1238-1245. doi: 10.1016/j.fertnstert.2017.02.120
Mir, D., Ardabilygazir, A., Afshariyamchlou, S., & Sachmechi, I. (2018). Malignant Hypertension in Association with Low Estrogen Dose Oral Contraceptives: Case Report and Review of Literature. Cureus. doi: 10.7759/cureus.2978
Birth Control & Cancer: Which Methods Raise, Lower Risk. (2022). Retrieved 5 August 2022, from https://www.cancer.org/latest-news/birth-control-cancer-which-methods-raise-lower-risk.html
Stegeman, B., de Bastos, M., Rosendaal, F., van Hylckama Vlieg, A., Helmerhorst, F., Stijnen, T., & Dekkers, O. (2013). Different combined oral contraceptives and the risk of venous thrombosis: systematic review and network meta-analysis. BMJ, 347(sep12 1), f5298-f5298. doi: 10.1136/bmj.f5298
Vinogradova, Y., Dening, T., Hippisley-Cox, J., Taylor, L., Moore, M., & Coupland, C. (2021). Use of menopausal hormone therapy and risk of dementia: nested case-control studies using QResearch and CPRD databases. BMJ, n2182. doi: 10.1136/bmj.n2182
Zimmerman, Y., Eijkemans, M., Coelingh Bennink, H., Blankenstein, M., & Fauser, B. (2013). The effect of combined oral contraception on testosterone levels in healthy women: a systematic review and meta-analysis. Human Reproduction Update, 20(1), 76-105. doi: 10.1093/humupd/dmt038
Edlow, A. G., & Bartz, D. (2010). Hormonal contraceptive options for women with headache: a review of the evidence. Reviews in obstetrics & gynecology, 3(2), 55–65.
About Dr. Mel Irvine
Dr. Mel Irvine, DNP and Clinical Sexologist specializes in sexual medicine and beauty in Fort Myers Florida. She earned her Doctor of Nursing Practice at Florida Gulf Coast University and her master's degree at the University of Alabama at Birmingham. In 2018, she completed a preceptorship at San Diego Sexual Medicine with Dr. Irwin Goldstein and obtained her clinical sexologist certification from STII with Dr. Carol Clark. She is passionate about working with singles and couples to learn and explore their sexuality and sexual health needs through providing a comfortable and nonjudgmental atmosphere. As a provider she offers a balanced and holistic approach that encompasses a multimodal care delivery model.
Our sexual medicine and beauty treatments in Fort Myers Florida:
https://drmelirvine.com/storage/2022/08/The-Long-Term-Effects-of-Hormonal-Birth-Control.jpg
600
800
Ben Irvine
https://drmelirvine.com/storage/2021/10/dr-mel-irvine-main-logo-300x83.png
Ben Irvine
2022-08-04 14:17:28
2023-11-14 17:11:44
The Long-Term Effects of Hormonal Birth Control