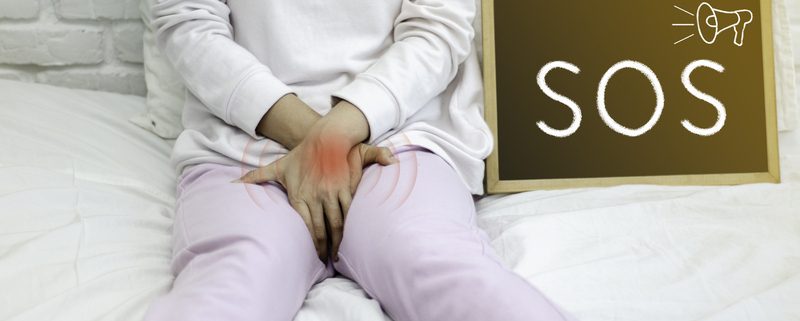 Peyronie's disease is something that affects the penis. It occurs when segments of flat scar tissue, called plaques, form under the skin of the penis. When the penis becomes erect, these plaques cause it to bend or become indented. As expected, they can be quite painful and can sometimes be felt through the skin.
In 70% of Peyronie's disease cases, the plaques form on the top side of the penis. Because of their placement, they make the tunica albuginea, which is the tough sheath that wraps the three tubes within the penis together, less flexible. This means that when the penis becomes erect, it bends upward. In the other 30% of cases where the plaques form on the bottom or side of the penis, the penis may turn downward or sideways, respectively.
In some unfortunate cases, the man may have multiple plaques, which can cause complex curves in the penis depending on where they are located.
In other cases, the plaque may go all the way around the penis. In these cases, the penis often doesn't curve, but the penis' shaft may instead narrow, similar to the neck of a bottle. In bad cases of Peyronie's diseases, the plaque may collect calcium, making it very hard, similar to bone.
Symptoms
The signs of Peyronie's disease include:
curved/bent penis
painful erections
lumps in the penis
difficulty with sex due to curved/bent penis
soft erections
Those with Peyronie's disease often feel embarrassed and may choose to suffer with it rather than seek medical attention. This can cause additional feelings of stress and depression on top of the physical symptoms.
Causes
The most likely cause of Peyronie's disease is a minor injury to the penis. As we know, the plaques found in those with Peyronie's disease are segments of flat scar tissue. This results when there is an injury to the penis and the body forms scar tissue. In those with Peyronie's disease, this scar tissue then forms the characteristic plaques.
What kind of injury can cause Peyronie's? The most likely culprit is vigorous sex, including bending the penis during penetration or continuous pressure from the partner's pubic bone. While this is the most common cause, it is also possible for it to develop after minor damage from a sports injury or other accident.
However, there is no need to worry that every injury to the penis will cause Peyronie's, because that is not the case. Since not everyone who withstands damage to the penis develops Peyronie's, researchers predict that there is also a genetic or environmental cause of Peyronie's disease. This can include a connective tissue disorder or family history. In addition, since Peyronie's develops because the body does not heal as it should, factors that affect wound healing such as high blood sugar, past pelvic trauma, or tobacco use could also cause Peyronie's.
Peyronie's can also result from an autoimmune disease if the immune system starts attacking the cells in the penis. When this happens, the body responds with inflammation which can lead to scar tissue.
It is important to note that no matter the cause, Peyronie's is not contagious and is not caused by a disease that can be transmitted.
The Stages of Peyronie's
Peyronie's disease can be split into two stages: acute and chronic.
During the acute phase, the plaques form in the penis, and the curving/bending of the penis worsens. In addition, you may feel pain in the penis whenever you get an erection. This stage can last from 5 to 7 months, but it may last as long as 18 months in rare cases.
While the acute phase is characterized by growing plaque and continued curving of the penis, the chronic phase begins when those two things stop. Those in this stage often no longer feel pain during an erection if they had experienced any during the acute phase.
How is Peyronie's Disease Diagnosed?
Peyronie's disease is relatively easy for a medical professional to diagnose because, in most cases, the plaques can be felt, meaning only a physical exam is required to diagnose it. In some cases, they may need to take a dynamic ultrasound to see where the plaque is and check for any calcium buildup. This imaging method also allows them to see how the blood flows within the penis, and important consideration for treatment.
If the doctor needs to examine the penis while it is erect, they will inject a medicine that causes an erection. Another option is for the doctor to ask you to take pictures of your erect penis at home so that they can evaluate the curvature at a follow-up visit.
Treatment
It is not very common for Peyronie's to go away on its own, so in many cases, some form of treatment is required. Medical professionals often try to avoid surgery if they can and instead try other treatment options, including medication and penile injections.
Those who only have small plaques, little to no curve of the penis, no difficulties during sex, and no pain may not need treatment at all.
In the cases of severe Peyronie's disease, surgery may be the best option. However, most doctors will still suggest putting off surgery until the individual has entered the chronic stage and has shown no sign of worsening plaque or bending for at least 9 to 12 months.
There are three primary surgical methods:
lengthen the side of the penis that curves
shorten the side of the penis opposite the plaque
place a prosthetic device inside the penis.
I'm sure none of these options sound all that appealing, which is one of the reasons why doctors try to avoid surgery if they can. However, if surgery is needed, the best surgical option will depend on how blood flows inside the penis and if you are also experiencing erectile dysfunction.
The Takeaway
Peyronie's disease is something that, if present, should be checked out by a doctor. This may be a source of embarrassment, but if left untreated, it can become quite painful.
It should go without saying, but always be sure to visit a doctor if you experience any pain during sex. In addition, if your erection is no longer pointing in the direction it used to, go see a doctor to get everything sorted out.
About Dr. Mel Irvine
Dr. Mel Irvine, DNP and Clinical Sexologist specializes in sexual medicine and beauty in Fort Myers Florida. She earned her Doctor of Nursing Practice at Florida Gulf Coast University and her master's degree at the University of Alabama at Birmingham. In 2018, she completed a preceptorship at San Diego Sexual Medicine with Dr. Irwin Goldstein and obtained her clinical sexologist certification from STII with Dr. Carol Clark. She is passionate about working with singles and couples to learn and explore their sexuality and sexual health needs through providing a comfortable and nonjudgmental atmosphere. As a provider she offers a balanced and holistic approach that encompasses a multimodal care delivery model.
Our sexual medicine and beauty treatments in Fort Myers Florida:
https://drmelirvine.com/storage/2022/03/Peyronies-Disease-treatment-in-fort-myers-fl.jpg
527
800
John
https://drmelirvine.com/storage/2021/10/dr-mel-irvine-main-logo-300x83.png
John
2022-03-24 09:38:27
2022-03-26 09:43:26
Peyronie's Disease