Vitamins And Supplements That Increase Vaginal Lubrication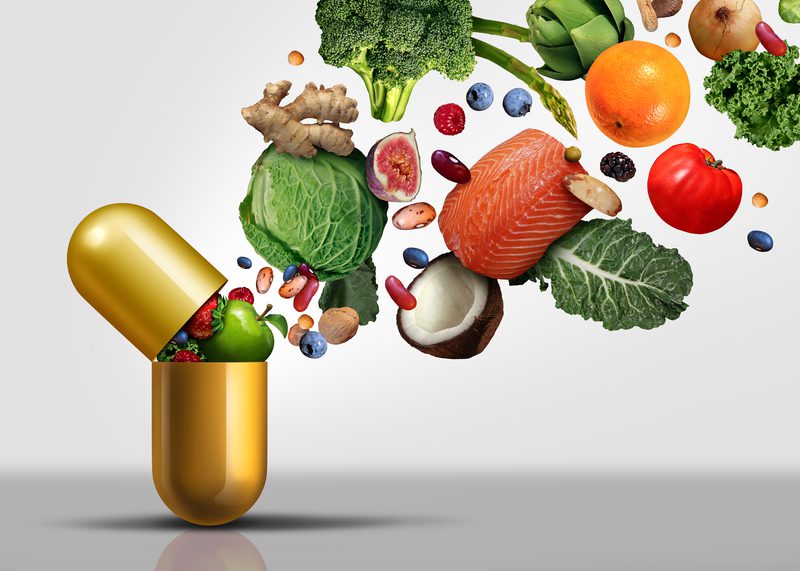 Vaginal dryness is an unpleasant condition, and while it is most often associated with menopausal women, it can affect women at any age, with anxiety, stress, and dehydration common factors causing decreased lubrication.
In addition to being uncomfortable, vaginal dryness can negatively affect a woman's sex life while also increasing the risk of vaginal infection, proving just how important it is to increase vaginal lubrication.
While external methods of increasing vaginal lubrication, such as with the use of lube, are available, specific vitamins and supplements may help the body increase natural lubrication, easing any discomfort caused by vaginal dryness.
Vitamin D
Vitamin D is often considered for its role in bone health, but studies have shown that it can also help increase vaginal lubrication.
A review of six studies found that whether vitamin D is taken orally as a supplement or through a suppository, it can help decrease dryness affecting women during menopause.
Yet another study containing 200 older women found that higher levels of vitamin D in the blood led to higher levels of vaginal lubrication and greater consistency in vaginal moisture.
Vitamin E
Another type of vitamin that can help vaginal lubrication is vitamin E, a fat-soluble vitamin often lauded for its antioxidant abilities, although its benefits extend further than that. A study on 52 women who used a vitamin E suppository found that 12 weeks of use improved symptoms of vaginal atrophy, one of which was vaginal dryness.
Vaginal dryness is also an often-unknown symptom affecting women undergoing cancer treatment. A study on suppositories containing vitamin E, vitamin D, hyaluronic acid, and vitamin A showed promise for improving symptoms of vaginal dryness for women in this population.
However, one thing to keep in mind about vitamin E is that research surrounding its benefits for vaginal dryness has primarily used suppositories as the method of supplementation, and more research is needed to see if oral vitamin E can provide these same benefits.
Hyaluronic Acid
Hyaluronic acid is a common ingredient in skincare for its ability to increase and preserves skin hydration. As an added bonus, hyaluronic acid may be able to provide these same benefits to the vaginal lining.
Studies have shown that suppositories and topical gels containing hyaluronic acid helped to increase vaginal lubrication. These results were also observed in suppositories and topical gels with only hyaluronic acid or when combined with vitamins E and A.
Hyaluronic acid may also show promise for improving vaginal dryness when used as a supplement, especially when combined with alpha-lipoic acid, glucosamine sulfate, and vitamins A, C, and E. However, more research into hyaluronic acid as an oral supplement is needed to confirm that it is beneficial for vaginal wellness when taken this way.
DHEA
Hormones play an essential role in the state of the vagina, including its dryness or lubrication. While estrogen is the primary female sex hormone and important in regulating the female reproductive system, most of its productions would not occur without dehydroepiandrosterone (DHEA).
DHEA is produced by the body and is an essential source of estrogen. However, DHEA levels peak in your 20s and then gradually decline, leading to lower estrogen levels and vaginal dryness.
Supplementing DHEA levels may help regulate estrogen levels and reverse vaginal dryness, though, with a 2016 study finding that a daily suppository of DHEA increased vaginal lubrication after just 12 weeks.
Low libido can also contribute to vaginal dryness, as sex drive is vital in stimulating the body for natural lubrication. However, for those with low libido, DHEA may help address this, potentially increasing vaginal lubrication.
Fish Oil
Fish oil is rich in omega-3 fatty acids, which are important for the proper functioning of the endocrine system, or the system in the body responsible for your hormones.
A study in 2019 found that increasing the intake of two types of omega-3s (docosahexaenoic acid (DHA) and eicosapentaenoic acid (EPA)) relieved menopause symptoms, including vaginal dryness.
Looking at the effect of omega-3 supplementation on hormone levels, a study found that estradiol levels increased in those who took a supplement combo of omega-3 fatty acids and vitamin D3 for eight weeks. Estradiol is a form of estrogen and often drops during menopause, contributing to vaginal dryness.
Sea Buckthorn Oil
The high fatty acid content of sea buckthorn oil, a supplement that comes from the seeds, leaves, and berries of the sea buckthorn plant, can help strengthen your skin barrier and prevent water loss in the skin.
Research regarding this oil for vaginal lubrication is limited. Still, one small study did see promising results in the ability of oral sea buckthorn oil supplementation to improve mucus quality in women suffering from vaginal atrophy, which is one contributor to vaginal dryness.
Alternative Ways to Address Vaginal Dryness
In addition to trying the above supplements, there are other actions you can take to help address your vaginal dryness.
First and foremost, avoid soaps and feminine hygiene products containing fragrances and dyes, as these can mess with the good bacteria found in the vagina, leading to an out-of-balance pH, irritation, and dryness. The vagina is self-cleaning, so allow it to work on its own.
Additionally, for those experiencing vaginal dryness during sex, make sure you are doing plenty of foreplay, which may be all that is needed to increase lubrication.
In some cases, it may be your hormonal birth control causing your vaginal dryness. Discussing this with your doctor can help determine if this is the cause and what alternatives there are.
Vitamins and Supplements for Vaginal Dryness
There are many vitamins and supplements that may be able to increase vaginal lubrication. Many of these supplements have been studied in suppository form, which involves placing them directly in the vagina, but some also show benefits when taken orally.
As with any new vitamin or supplement, it is always recommended to speak with a doctor before beginning, as they may interact with medications you already take or a health condition that you have.
For those looking to correct the imbalance in their body causing vaginal dryness, supplements and vitamins are a natural way to support your body and increase lubrication, easing discomfort. Whether they are increasing hormone production or supplementing a vitamin needed for vaginal lining integrity, vitamins and supplements can help address vaginal dryness due to a myriad of causes.
References
Goncharenko, V., Bubnov, R., Polivka, J., Zubor, P., Biringer, K., & Bielik, T. et al. (2019). Vaginal dryness: individualised patient profiles, risks and mitigating measures. EPMA Journal, 10(1), 73-79. doi: 10.1007/s13167-019-00164-3
Riazi, H., Ghazanfarpour, M., Taebi, M., & Abdolahian, S. (2019). Effect of Vitamin D on the Vaginal Health of Menopausal Women: A Systematic Review. Journal Of Menopausal Medicine, 25(3), 109. doi: 10.6118/jmm.19194
Bala, R., Kaur, H., & Nagpal, M. (2016). Authenticity of vitamin D in modified vaginal health index in geriatric subjects. International Journal Of Reproduction, Contraception, Obstetrics And Gynecology, 4119-4122. doi: 10.18203/2320-1770.ijrcog20164067
Golmakani, N., Emamverdikhan, A., Tabassi, S., Hassanzadeh, M., Sharifi, N., & Shakeri, M. (2016). A survey of the therapeutic effects of Vitamin E suppositories on vaginal atrophy in postmenopausal women. Iranian Journal Of Nursing And Midwifery Research, 21(5), 475. doi: 10.4103/1735-9066.193393
Dinicola, S., Pasta, V., Costantino, D., Guaraldi, C., & Bizzarri, M. (2015). Hyaluronic acid and vitamins are effective in reducing vaginal atrophy in women receiving radiotherapy. Minerva ginecologica, 67(6), 523–531.
Dos Santos, C., Uggioni, M., Colonetti, T., Colonetti, L., Grande, A. J., & Da Rosa, M. I. (2021). Hyaluronic Acid in Postmenopause Vaginal Atrophy: A Systematic Review. The journal of sexual medicine, 18(1), 156–166. https://doi.org/10.1016/j.jsxm.2020.10.016
Angelucci, Michela & Federica, Frascani & Garo, Maria. (2019). Efficacy of an oral supplement containing hyaluronic acid, collagen, glucosamine sulfate, chondroitin sulfate, alpha-lipoic acid, methylsulfonylmethane and vitamins on vaginal dryness in young women.. Nutrafoods. 1. 58-67. 10.17470/NF-019-0009.
Labrie, F., Archer, D. F., Koltun, W., Vachon, A., Young, D., Frenette, L., Portman, D., Montesino, M., Côté, I., Parent, J., Lavoie, L., Beauregard, A., Martel, C., Vaillancourt, M., Balser, J., Moyneur, É., & VVA Prasterone Research Group (2016). Efficacy of intravaginal dehydroepiandrosterone (DHEA) on moderate to severe dyspareunia and vaginal dryness, symptoms of vulvovaginal atrophy, and of the genitourinary syndrome of menopause. Menopause (New York, N.Y.), 23(3), 243–256. https://doi.org/10.1097/GME.0000000000000571
Vegunta, S., Kling, J. M., & Kapoor, E. (2020). Androgen Therapy in Women. Journal of women's health (2002), 29(1), 57–64. https://doi.org/10.1089/jwh.2018.7494
Abshirini, M., Siassi, F., Koohdani, F., Qorbani, M., Khosravi, S., Aslani, Z., Pak, N., & Sotoudeh, G. (2019). Higher intake of dietary n-3 PUFA and lower MUFA are associated with fewer menopausal symptoms. Climacteric : the journal of the International Menopause Society, 22(2), 195–201. https://doi.org/10.1080/13697137.2018.1547700
Al-Shaer, A., Abu-Samak, M., Hasoun, L., Mohammad, B., & Basheti, I. (2019). <p>Assessing the effect of omega-3 fatty acid combined with vitamin D3 versus vitamin D3 alone on estradiol levels: a randomized, placebo-controlled trial in females with vitamin D deficiency</p>. Clinical Pharmacology: Advances And Applications, Volume 11, 25-37. doi: 10.2147/cpaa.s182927
Larmo, P. S., Yang, B., Hyssälä, J., Kallio, H. P., & Erkkola, R. (2014). Effects of sea buckthorn oil intake on vaginal atrophy in postmenopausal women: a randomized, double-blind, placebo-controlled study. Maturitas, 79(3), 316–321. https://doi.org/10.1016/j.maturitas.2014.07.010
About Dr. Mel Irvine
Dr. Mel Irvine, DNP and Clinical Sexologist specializes in sexual medicine and beauty in Fort Myers Florida. She earned her Doctor of Nursing Practice at Florida Gulf Coast University and her master's degree at the University of Alabama at Birmingham. In 2018, she completed a preceptorship at San Diego Sexual Medicine with Dr. Irwin Goldstein and obtained her clinical sexologist certification from STII with Dr. Carol Clark. She is passionate about working with singles and couples to learn and explore their sexuality and sexual health needs through providing a comfortable and nonjudgmental atmosphere. As a provider she offers a balanced and holistic approach that encompasses a multimodal care delivery model.
Our sexual medicine and beauty treatments in Fort Myers Florida:
https://drmelirvine.com/storage/2022/11/Vitamins-And-Supplements-That-Increase-Vaginal-Lubrication.jpg
571
800
Ben Irvine
https://drmelirvine.com/storage/2021/10/dr-mel-irvine-main-logo-300x83.png
Ben Irvine
2022-11-01 14:43:43
2023-11-14 17:11:44
Vitamins And Supplements That Increase Vaginal Lubrication