The Benefits of a Low Carbohydrate, High Fat Diet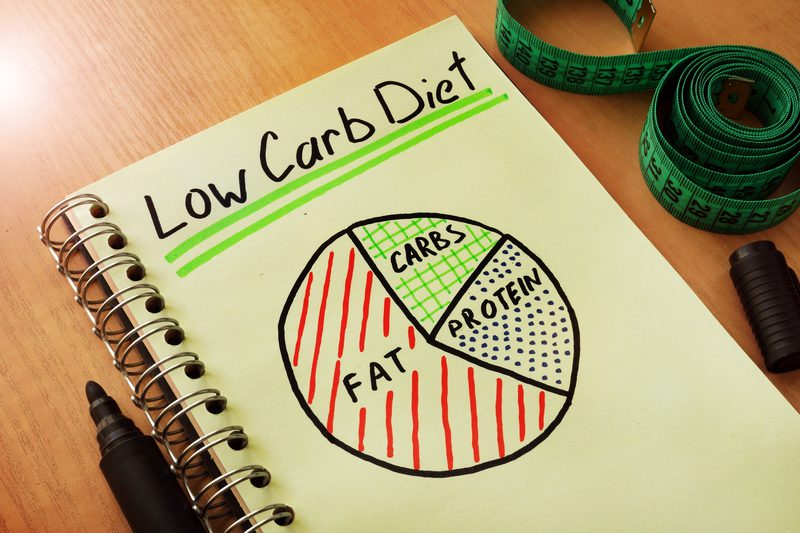 With the many different diets bouncing around these days, it can be hard to tell which ones are worth following, and which ones will only cause more harm to your body despite their promise of fast results.
However, one diet linked to a significant number of health benefits while also aiding weight loss is the low-carb, high-fat diet (LCHF) diet.
What Is the Low Carb, High Fat Diet?
The LCHF diet, much as its name suggests, prioritizes reducing carbohydrate intake while increasing fat intake.
Essentially, it is a diet that is high in fat, low in carbohydrates, and moderate in protein.
The LCHF diet also discourages processed foods and instead places an emphasis on whole, unprocessed foods such as eggs, fish, nuts, and low-carb vegetables. It restricts the consumption of foods with added sugar or starchy foods such as pasta, bread, rice, and potatoes.
By replacing carbohydrate consumption with fat consumption, the body uses the ketones from fat for energy instead of the glucose from carbohydrates. Not only are ketones a better energy source, but many people feel fuller for longer when on an LCHF diet.
There is no specific macronutrient range to meet with this diet, and it instead focuses on lifestyle changes in terms of the foods you turn to. Because of this, it is a highly individualized plan that loosely follows the guidelines of low carb, high fat, and medium protein consumption.
However, there are diets that fall under the umbrella term of the LCHF diet that have set restrictions on carb consumption, such as the ketogenic or Atkins diet. These diets may be more restrictive, but it is not necessary to follow their rules to implement and benefit from an LCHF diet.
The Type of Fat Matters
When we hear the term "fat,†we don't typically associate that with foods we should eat. However, there are different types of fats, which have varying effects on our bodies.
The fats prioritized in the LCHF diet are "healthy fats,†which include monounsaturated and polyunsaturated fats. In comparison, trans fats should be entirely avoided and saturated fats are best in moderation.
Unhealthy fats can cause clogged arteries, weight gain, and an increased risk of certain diseases. However, healthy fats have the opposite effect, and they can help fight fatigue, improve your moods, and maintain mental health.
Some examples of "healthy†fats include:
seeds
nuts
vegetable oils
fish
avocados
A specific type of unsaturated fat is omega-3 fats, which play essential roles in how our body functions but cannot be produced by the body. This means that you must get enough omega-3s from your diet.
Some foods that are high in omega-3s include:
fish oils
fatty fish
flaxseed oil
chia seeds
walnuts
Foods To Avoid on An LCHF Diet
When following a low-carb, high-fat diet, it is necessary to reduce the consumption of foods with high carbohydrates.
This list includes:
sugary drinks (e.g., smoothies, soda, sweet tea, juice, chocolate milk, sports drinks)
grain and starches (e.g., baked goods, breads, rice, cereals, pasta)
fruits
sweeteners (e.g., honey, sugar, maple syrup, agave)
alcoholic beverages
starchy vegetables (e.g., winter squash, potatoes, sweet potatoes, peas, beets)
highly processed foods
items labeled low-fat or "dietâ€
It is crucial to note that, when following an LCHF diet, it is important to reduce the above foods, but they should not all be cut out completely. Carbohydrates are still important for your body, they should just be limited when following this diet.
Foods To Eat on An LCHF Diet
Now that we have discussed the foods to avoid, let's take a look at what your diet should primarily revolve around when on an LCHF diet:
fish (especially those high in fats, such as sardines, salmon, and trout)
meats and poultry
eggs
oils (some healthy choices include coconut, olive, and avocado oil)
berries
full-fat dairy
avocados
non-starchy vegetables (e.g., broccoli, greens, cauliflower, mushrooms, peppers)
nuts and seeds
condiments
The Health Benefits of An LCHF Diet
There are many health benefits observed by those who follow an LCHF diet, which can include:
Weight Loss
One of the most talked about health benefits of following the LCHF diet is weight loss, with many studies supporting that LCHF diets are effective in promoting weight loss.
Part of these results are due to the effect of the LCHF diet on hormones that regulate appetite. Namely, the LCHF diet may help to suppress appetite, helping to keep you feeling fuller for longer.
The LCHF diet also improves insulin sensitivity, which helps to regulate blood sugar levels and better metabolizes blood sugar.
In addition to its effect on hormones, the LCHF diet also helps to promote fat loss, especially fat in the belly area. This fat, also known as visceral fat, can increase the risk of certain conditions, such as diabetes, heart disease, and certain cancers.
Studies have shown, though, that the LCHF diet helps people lose more weight in the belly area than those on a low-fat diet, and it also helps people keep the weight off.
Other studies found that when following an LCHF diet, obese adults not only lost more visceral fat, but also showed an improvement in cholesterol levels and a significant drop in insulin resistance.
Diabetes
As discussed, the LCHF diet can help to increase insulin sensitivity, which is very important for those with diabetes. This is because diabetes can occur due to insulin resistance, which hinders the metabolism of sugar and causes blood sugar levels to build up.
However, a study on obese adults with type 2 diabetes found that an LCHF diet resulted in a greater improvement in blood sugar control when compared to a high-carb diet. In addition, more of the study participants were able to reduce their diabetes medication because of the improvements in blood sugar control offered by the LCHF diet.
Even more promising is that, in one study, some participants assigned to a ketogenic diet could completely discontinue their diabetes medications.
Heart Disease
While it may seem counterintuitive, LCHF diets can lower body fat while also lowering inflammation and improving heart disease-related blood markers.
Some of these blood markers include HDL cholesterol, which LCHR diets have been shown to improve, and triglycerides, which they can reduce. Additionally, studies have seen a decrease in C-reactive proteins, which is an inflammation marker linked to heart disease.
Some other cardiovascular benefits of LCHF diets include reduced blood pressure and decreased LDL cholesterol.
Neurological Diseases
LCHF diets may also help with some neurological diseases. For instance, the ketogenic diet has long been used as a potential treatment for epilepsy, which is a neurological disorder that results in recurrent seizures.
Studies between the ketogenic diet and epilepsy have seen that this diet can decrease seizures by more than 50%. In addition, it can also be an effective treatment when the patient does not respond to antiepileptic drugs.
The LCHF diet may also help more than those with seizures. For example, a study between the ketogenic diet and Alzheimer's disease found an improvement in cognitive functioning.
Additionally, diets high in carbs and processed sugars have been linked to increases in cognitive decline, whereas diets low in carbs show improvements in cognitive functioning.
Side Effects of The LCHF Diet
Suddenly cutting down on the number of carbohydrates you consume can cause some side effects, although they are usually only temporary.
These side effects can include:
muscle cramps
fatigue or weakness
skin rash
headache
bad breath
diarrhea or constipation
As your body gets used to the change in diet, these side effects typically disappear.
The Risks of The LCHF Diet
There are some risks with an LCHF diet, especially in those who are too extreme in their carbohydrate restriction. These complications can include cancer, heart disease, and stroke.
To protect yourself and avoid these risks, it is always best to discuss with your doctor any dietary changes so that they can ensure you are still getting the nutrients your body needs. Your doctor can also monitor for these factors to ensure they do not develop.
For those who follow restrictive LCHF diets, there is also an increased risk of not sticking to them, which then negates any potential benefits. To avoid this, it is best to ease into an LCHF diet and to keep it at a level that is more sustainable.
Final Remarks
The low-carb, high-fat diet is a nutrition plan that prioritizes reducing carbohydrate intake and increasing fat intake. This encourages the body to use ketones instead of glucose for energy.
This can contribute to many health benefits, including weight loss, diabetes management, and reduced cardiovascular risk. Some minor side effects may occur when starting an LCHF diet, but they typically go away within a few days as the body adjusts to the new diet.
Because there are potential risks with an LCHF diet, discussing this dietary change with your doctor is always recommended to determine if it is a good (and safe) choice for you. Your doctor can help you discuss the potential benefits and how you can gradually implement this type of diet.
When done correctly, the LCHF diet has the potential to significantly improve your life, but it is with the help of your doctor that you can see these benefits and stay safe.
Resources
Hu, T., Yao, L., Reynolds, K., Niu, T., Li, S., & Whelton, P. et al. (2016). Adherence to lowâ€carbohydrate and lowâ€fat diets in relation to weight loss and cardiovascular risk factors. Obesity Science &Amp; Practice, 2(1), 24-31. doi: 10.1002/osp4.23
Sumithran, P., Prendergast, L., Delbridge, E., Purcell, K., Shulkes, A., Kriketos, A., & Proietto, J. (2013). Ketosis and appetite-mediating nutrients and hormones after weight loss. European Journal Of Clinical Nutrition, 67(7), 759-764. doi: 10.1038/ejcn.2013.90
Paoli, A., Grimaldi, K., Bianco, A., Lodi, A., Cenci, L., & Parmagnani, A. (2012). Medium term effects of a ketogenic diet and a Mediterranean diet on resting energy expenditure and respiratory ratio. BMC Proceedings, 6(S3). doi: 10.1186/1753-6561-6-s3-p37
NAKAO, Y., MIYAWAKI, T., YASUNO, S., NAKAO, K., TANAKA, S., & IDA, M. et al. (2012). Intra-abdominal fat area is a predictor for new onset of individual components of metabolic syndrome: MEtabolic syndRome and abdominaL ObesiTy (MERLOT study). Proceedings Of The Japan Academy, Series B, 88(8), 454-461. doi: 10.2183/pjab.88.454
Gower, B., & Goss, A. (2014). A Lower-Carbohydrate, Higher-Fat Diet Reduces Abdominal and Intermuscular Fat and Increases Insulin Sensitivity in Adults at Risk of Type 2 Diabetes. The Journal Of Nutrition, 145(1), 177S-183S. doi: 10.3945/jn.114.195065
Bueno, N., de Melo, I., de Oliveira, S., & da Rocha Ataide, T. (2013). Very-low-carbohydrate ketogenic diet v. low-fat diet for long-term weight loss: a meta-analysis of randomised controlled trials. British Journal Of Nutrition, 110(7), 1178-1187. doi: 10.1017/s0007114513000548
Tay, J., Luscombe-Marsh, N., Thompson, C., Noakes, M., Buckley, J., & Wittert, G. et al. (2015). Comparison of low- and high-carbohydrate diets for type 2 diabetes management: a randomized trial. The American Journal Of Clinical Nutrition, 102(4), 780-790. doi: 10.3945/ajcn.115.112581
Hussain, T., Mathew, T., Dashti, A., Asfar, S., Al-Zaid, N., & Dashti, H. (2012). Effect of low-calorie versus low-carbohydrate ketogenic diet in type 2 diabetes. Nutrition, 28(10), 1016-1021. doi: 10.1016/j.nut.2012.01.016
Ruth, M., Port, A., Shah, M., Bourland, A., Istfan, N., & Nelson, K. et al. (2013). Consuming a hypocaloric high fat low carbohydrate diet for 12 weeks lowers C-reactive protein, and raises serum adiponectin and high density lipoprotein-cholesterol in obese subjects. Metabolism, 62(12), 1779-1787. doi: 10.1016/j.metabol.2013.07.006
Rogovik, A. L., & Goldman, R. D. (2010). Ketogenic diet for treatment of epilepsy. Canadian family physician Medecin de famille canadien, 56(6), 540–542.
Henderson, S., Vogel, J., Barr, L., Garvin, F., Jones, J., & Costantini, L. (2009). Study of the ketogenic agent AC-1202 in mild to moderate Alzheimer's disease: a randomized, double-blind, placebo-controlled, multicenter trial. Nutrition &Amp; Metabolism, 6(1), 31. doi: 10.1186/1743-7075-6-31
Beilharz, J., Maniam, J., & Morris, M. (2015). Diet-Induced Cognitive Deficits: The Role of Fat and Sugar, Potential Mechanisms and Nutritional Interventions. Nutrients, 7(8), 6719-6738. doi: 10.3390/nu7085307
Roberts, R., Roberts, L., Geda, Y., Cha, R., Pankratz, V., & O'Connor, H. et al. (2012). Relative Intake of Macronutrients Impacts Risk of Mild Cognitive Impairment or Dementia. Journal Of Alzheimer's Disease, 32(2), 329-339. doi: 10.3233/jad-2012-120862
About Dr. Mel Irvine
Dr. Mel Irvine, DNP and Clinical Sexologist specializes in sexual medicine and beauty in Fort Myers Florida. She earned her Doctor of Nursing Practice at Florida Gulf Coast University and her master's degree at the University of Alabama at Birmingham. In 2018, she completed a preceptorship at San Diego Sexual Medicine with Dr. Irwin Goldstein and obtained her clinical sexologist certification from STII with Dr. Carol Clark. She is passionate about working with singles and couples to learn and explore their sexuality and sexual health needs through providing a comfortable and nonjudgmental atmosphere. As a provider she offers a balanced and holistic approach that encompasses a multimodal care delivery model.
Our sexual medicine and beauty treatments in Fort Myers Florida:
https://drmelirvine.com/storage/2022/09/The-Benefits-of-a-Low-Carbohydrate-High-Fat-Diet.jpg
533
800
Ben Irvine
https://drmelirvine.com/storage/2021/10/dr-mel-irvine-main-logo-300x83.png
Ben Irvine
2022-09-06 14:06:04
2023-11-14 17:11:44
The Benefits of a Low Carbohydrate, High Fat Diet