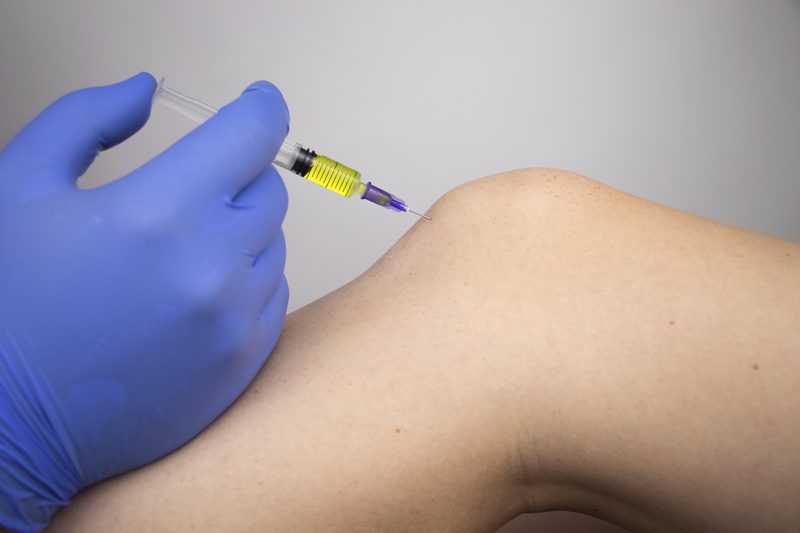 What Are PRP Joint Injections?
PRP joint injections involve the injection of platelet-rich plasma into an injured joint. This increases the concentration of growth factors at the injured site, accelerating the healing process.
The appeal of PRP joint injections is that they can be directed right to the injured area. So, if you have pain in your knee, the platelet-rich plasma will be injected right into the knee. This ensures that the healing properties of platelets go directly to the spot that needs them.
What Is Platelet-Rich Plasma?
Platelet-rich plasma (PRP) is a liquid consisting of a high concentration of platelets from the patient's own body. PRP therapy then injects this liquid back into the patient to accelerate the healing of ligaments, tendons, joints, and muscles.
This type of therapy is becoming increasingly popular to combat conditions such as hair loss, sexual dysfunction and joint damage because it can target a specific location and, by using your own blood, there is minimal risk of the body rejecting the therapy. PRP is also safe to use with other treatments, such as medications, without fear of complication.
Platelet-rich plasma consists of two components: platelets and plasma. Platelets are a type of blood cell which play an important role in healing, with white platelets most often known for their clotting abilities. However, platelets also contain growth factors that can trigger cell reproduction and tissue regeneration, leading to healing in the damaged area. The second component of PRP is plasma, which is the liquid portion of your blood.
PRP is created by collecting a sample of your blood and then spinning it in a centrifuge until the PRP is separated from the other components of your blood. The doctor then injects the PRP into the injured area, and healing begins.
What Does PRP Therapy Do?
When PRP is injected into the damaged joint, it attracts stem cells that help repair damaged tissue, tendons, ligaments, cartilage, and muscle.
This can produce results such as:
reduce pain
inhibit inflammation
improve joint function
slow, halt, or repair damaged tissues
increase the production of natural lubricating joint fluid
PRP injections do not inject anything unnatural into the body, they simply create a way for your body to focus its natural haling abilities.
Who Are PRP Joint Injections For?
PRP joint injections are ideal for those with joint pain that is taking a long time to heal or is recurring.
This is because PRP joint injections help to rebuild damaged tissue, returning full functionality to the joint and relieving pain. Additionally, PRP injections reduce inflammation and stimulate joint lubrication, which eases joint stiffness.
Some people who may be more likely to benefit from PRP joint injections include athletes and older adults, as these individuals have the most stress placed on their joints.
PRP joint injections are also beneficial for those with degenerative joint conditions, such as arthritis. PRP joint injections help to slow the progression of the disease, keeping your joint health from getting worse.
When used for joint injections, PRP therapy often shows the most noticeable results after a few weeks of treatment. It can depend on the condition, though, with some people finding improved joint health after just one injection, whereas those with degenerative diseases may need additional injections to slow the progression.
What Conditions Can PRP Joint Injections Help With?
Osteoarthritis
One of the most common conditions affecting the joints is arthritis, with osteoarthritis one form of this disease. Osteoarthritis is a degenerative joint disease where the tissue in the joints breaks down over time. The joints most often affected by osteoarthritis include the knees, hands, hips, lower back, and neck.
Osteoarthritis is very often considered a "wear and tear†disease, and it is typically caused by old age or repetitive use (especially common in athletes).
PRP therapy offers a way to direct healing abilities to the tissue which is breaking down. This is often the cartilage or, in the knee, the meniscus, which protects the bones from rubbing against each other. When this tissue breaks down, the bones rub every time the joint is moved, causing pain and, when inactive, stiffness.
PRP helps to slow the progression of osteoarthritis, preventing it from getting worse. In some cases, it may even help to repair the damaged tissue.
Chronic Tendon Injuries
Some individuals may find that they consistently suffer from tendon injuries, such as jumper's knee or tennis elbow. As the names suggest, these injuries are especially common in athletes who repeat the same motion over and over, such as a tennis player who always swings their dominant arm.
The primary component of healing for these conditions is typically rest, but they can also take a long time to heal. By adding PRP therapy, the healing process can be sped up and stimulated so that you can return to normal activities sooner.
Ligament Tears
Ligament tears can be painful conditions that take a long time to heal. Sometimes the tear is minor, and the treatment revolves around rest. However, because of how long they take to heal, it is easy to re-injure them, sometimes making it feel as though it never heals.
In these situations, PRP therapy can aid the healing process and help you finally heal the torn ligament. It is helpful for times when your ligament continues to tear or when the tear is very slow-healing.
Bursitis
Bursae are small, fluid-filled sacs that reduce friction between tissues of the body around the major joints, such as elbows, shoulders, knees, and hips. Bursitis occurs when the bursae become inflamed, and it can lead to pain when using the affected joint.
PRP therapy can help relieve bursitis pain by reducing inflammation in the bursae and promoting tissue healing.
Bursitis is yet another repetitive use condition, making PRP therapy effective at healing it and preventing further flare-ups.
Healing Post-Surgery
Surgical procedures on the tendons, ligaments, and muscles of joints typically have very long recovery times. PRP therapy is often used after these procedures to help accelerate healing and return you to full mobility sooner.
About Dr. Mel Irvine
Dr. Mel Irvine, DNP and Clinical Sexologist specializes in sexual medicine and beauty in Fort Myers Florida. She earned her Doctor of Nursing Practice at Florida Gulf Coast University and her master's degree at the University of Alabama at Birmingham. In 2018, she completed a preceptorship at San Diego Sexual Medicine with Dr. Irwin Goldstein and obtained her clinical sexologist certification from STII with Dr. Carol Clark. She is passionate about working with singles and couples to learn and explore their sexuality and sexual health needs through providing a comfortable and nonjudgmental atmosphere. As a provider she offers a balanced and holistic approach that encompasses a multimodal care delivery model.
Our sexual medicine and beauty treatments in Fort Myers Florida:
https://drmelirvine.com/storage/2022/08/PRP-Joint-Injections.jpg
533
800
Ben Irvine
https://drmelirvine.com/storage/2021/10/dr-mel-irvine-main-logo-300x83.png
Ben Irvine
2022-08-14 14:39:07
2023-11-14 17:11:44
PRP Joint Injections